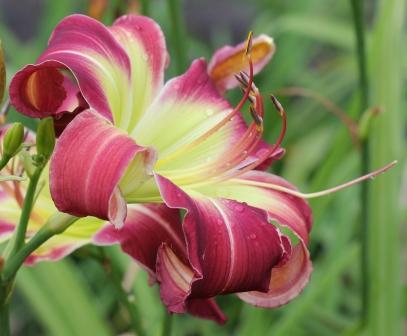 Greetings
My name is Charmaine Payne, I moved Fairyscape Daylilies to Ottawa in 2011. This summer will be exciting as many of my seedlings should be blooming for the first time while others will see their second bloom period(time to start the assessments). The process of seedlings here in the North without a greenhouse is a slow.
Last summer I added Jamie and Dianne Gossard's 2015 collection, Nicole DeVito's Diploid 2015 Collection and a number of newer and older odds and sods.

After last years disaster with THE thumb drive, I have saved to a minimum of two different locations (should be three). Next, I will begin to populate the site with needed photos. Some folks have 10,000 seedlings each year, I have 10,000 + photos each year to review . The photos are from my garden. I do not adjust for colour or hide/improve the appearance of the flowers. The only editing I do is for size and orientation. If you wish to use any of my photos, I ask that you seek my permission first, and give credit either to Fairyscape Daylilies or Charmaine Payne.
I am taking orders for the 2016 year now. I would like to thank all that have visited and wish you health, happiness and most of all happy gardening.
Fairyscapedaylilies@bell.net If you have not heard from me within 24 hours please hit resend.
At least a few times a year the server appears to redirect my emails to the spam box and if I do not remember to go in and check every few days they are deleted. So please, please persist! To any that may have had this issue please accept my most humble apologies!
Charmaine and Family